RFQs and purchase automation
Consolidate vendor communication, purchasing rules, order management and inventory tracking to increase productivity and reduce costs.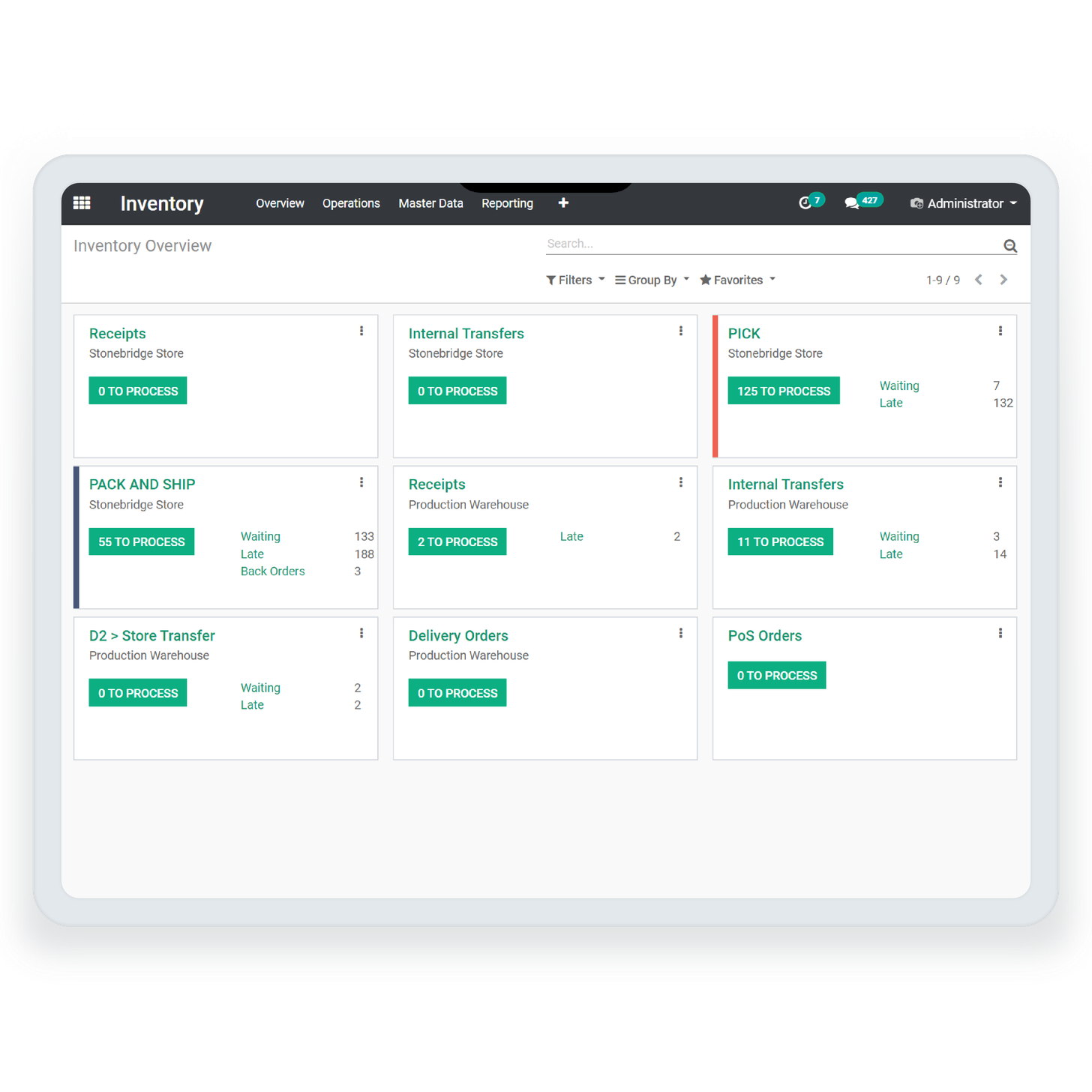 Real-time warehouse oversight
Empower every member of your team - from worker to management - to make fully informed decisions on the fly with live data on any device.
Quotes
Orders
Inventory
Shipments
More!
On-demand inventory tracking
Arm your sales team with live inventory levels and accurate forecasting to ensure customer satisfaction, decrease service costs, and improve customer expectation management.
Steersman's systems knowledge, coupled with their business knowledge, enables them to quickly and efficiently solve any issues that we might have, which in turn saves us both time and money. Their technical abilities help them solve a variety of complex issues, and they are head and shoulders above the consultants I worked with at Odoo and at many other companies.


Continue to Article

Jeremy Sacker
Head of Special Projects for Sciencix
Intelligent fulfillment and shipping
Streamline workflow and eliminate user error with predefined process flows that take all the guesswork out of fulfillment. Automate the decision flow freeing up your team to just pack and ship the orders as directed.
Fulfill domestic and international orders accurately and efficiently with Steersman's built-in integrations for most parcel carriers, complete with electronic submission of documentation for international parcels under $2500.
UPS
USPS
FedEx
DHL
CanadaPost
and more!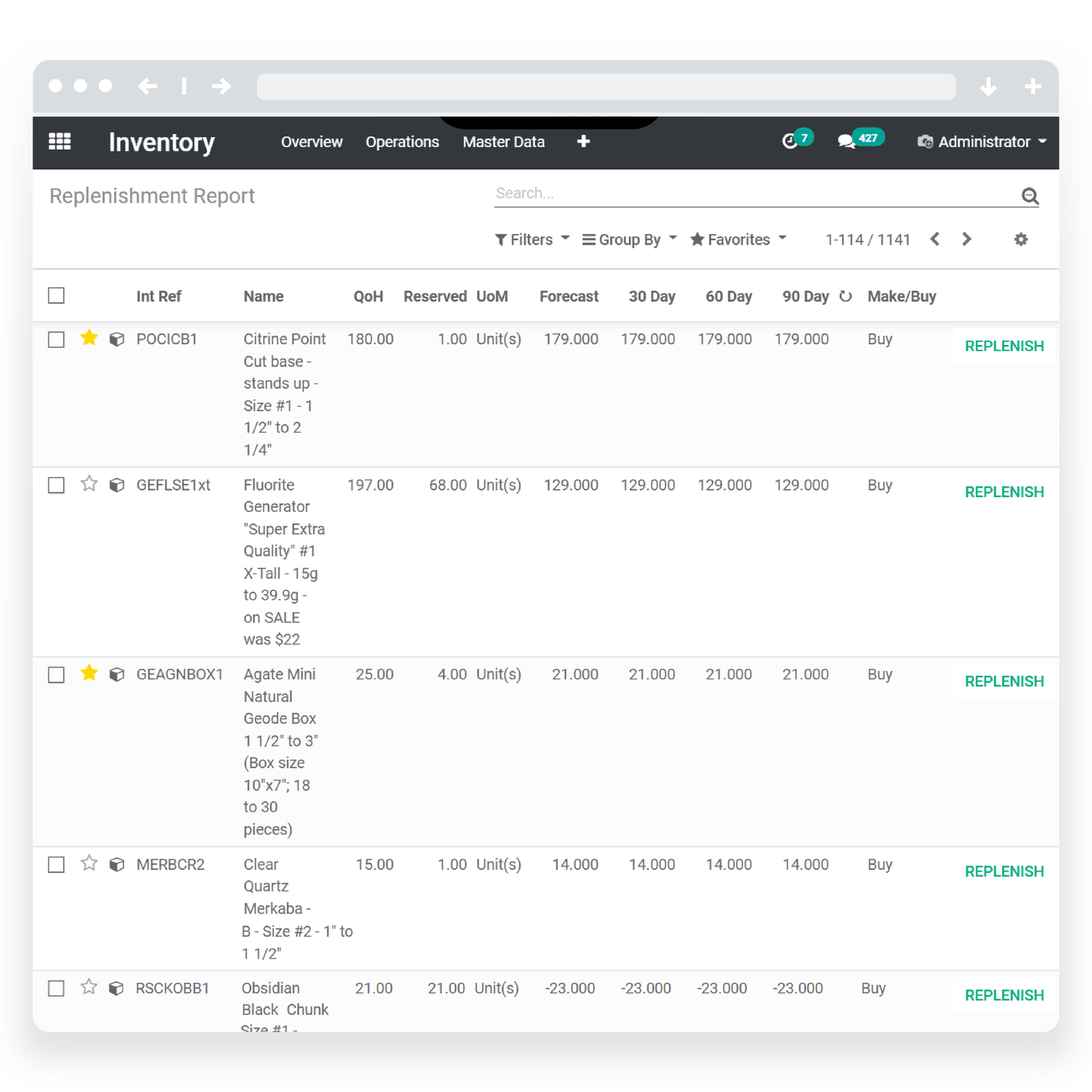 Dynamic forecasting and replenishment
Optimize forecasting strategies with Steersman's replenishment report. Users can compile large PO's or split orders up while taking a variety of insights into consideration:
Current inventory levels and quantities reserved
Forecasted quantities by customizable periods
Past consumption and sales history
Reordering rules and related inventory warnings
Trigger a PO, an MO, or a transfer with a click of a button
System-generated restocking recommendations
Flag favorites and use filters for custom views
Explore Reporting
Barcode labeling and scanning
Ship the right product every time with intelligent barcode labeling. Arm your warehouse team with handheld scanners so that they always know exactly what they have and where.
Guarantee accurate inventory management flows with single or bulk barcode printing on stock receipts, stock moves, deliveries or directly from the product view in the Sales module.
Your sales team will know exactly where in the pipeline the client's order is or what to do if a package is lost or damaged - even if it was part of a larger order - no matter what shipping method is used.
Maximize warehouse efficiency with Steersman's Odoo
Ensure Accuracy with Odoo
Implement an efficient stocking strategy, treating all operations as stock moves between locations, with Odoo's double-entry inventory method.
Savings with Automation
Leverage configurable re-ordering rules and automated RFQs to streamline inventory replenishment, optimize efficiency and save money.
Improve Forecasting
Identify opportunities, maintain optimal inventory levels and respond quickly to changes with Steerman's proprietary replenishment report.
A chain is only as strong as its weakest link and with Steersman's Odoo you can effortlessly manage relationships at every stop along your supply chain, as well as consistently provide exceptional product and service to your customers.
Advanced supply chain automation features
Optimize Workflows with Automation
Save time and money with automated reminders, inventory warnings, configurable re-ordering rules and more. Maintain a competitive edge and accurately set fulfillment expectations for your customers.
Efficiency through Centralized Data
Simplify drop-shipping, cross-docking, and manage multiple warehouses - in addition to regular everyday order fulfillment - with centralized control over every part of the process.
Traceability for Optimal Customer Service
Ensure complete traceability of your inventory to guarantee that your customers get their orders as quickly and accurately as possible, while you maintain full control of your entire supply chain.