Fast and Intuitive Search Solution for Large E-Commerce Catalogs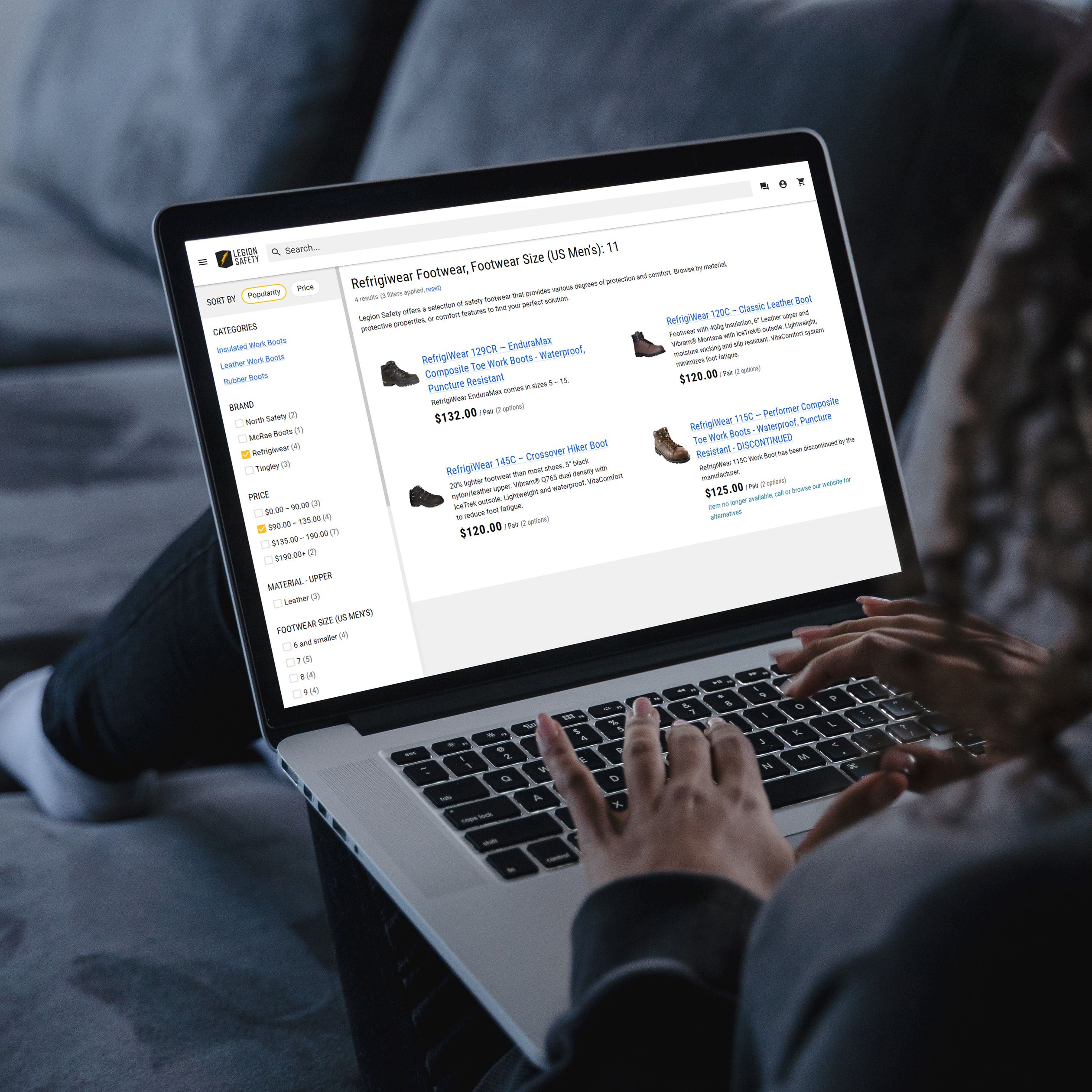 Smart e-commerce site search is among the best ways that online catalogs can quickly serve relevant products and information to visitors. Your online store can use it for specific search queries that visitors type into the search bar, for displaying products within categories, for faceted filters, for creating landing pages on the fly, and more.
High quality site search works in split second time, shows relevant results, corrects common spelling errors, and can be tweaked to adjust what clients see at the top of their results.
Steersman Business Suite comes with blazing fast, built-in smart e-commerce website search out of the box. The system runs product categories, faceted filters, and on-site search through our advanced website search module – fully integrated, tweakable, with no third-party systems to learn, integrate and maintain.
Steersman smart website search
Reliability
As a native microservice, Steersman Search just works – there aren't any unstable integrations to maintain, ensuring your search availability and performance are uninterrupted.
Speed / Performance
Processing times and responses for large datasets are done within an average of 0.05 seconds. As the system is native to our product information management system and the Next.js-based e-commerce front end infrastructure, data transfer and display times are light-speed-fast.
Technology
Our search uses Elasticsearch technology at its core.
Faceted filters and landing pages
Search queries for faceted filters are structured to eliminate duplication, feeding into standardized URLs, ensuring that filter query result pages are indexable and crystal clear to search engines. Duplicate content across multiple URLs reached via a variation in faceted filter selection order is completely resolved – save the bandwidth and get search engines to like you for saving their resources.
With our search, you can build landing pages based on product type, filter selections, and other criteria in minutes. And since our URLs are normalized, any page can become a landing page – with dynamic content and a static URL. No more need to chase redirects and rebuild addressing architecture to let the marketing team assemble pages that they want.
On-site search
With auto-complete, auto-correct, and weighted database fields, Steersman advanced e-commerce site search understands what the visitors seek and shows it to them. Help your visitors find and buy what they want via auto-complete search query suggestions, category listings fitting search query, and with specific products or product variants.
Scalability
Whether your catalog has 100 or 10,000,000 products – most relevant results will be shown within microseconds.
Results control and boosting for merchandising
Steersman can tweak the weight of various data fields when it comes to determining the most relevant results. Aside from tweaking data field importance ratings, you can define various business intelligence aspects to push products up or down – may it be based on profitability, stock levels, sales history, or other factors.
Analytics
Because the search is native to the system, all business and website traffic analytics are consolidated and available out-of-the-box as part of the Steersman Business Suite. You will see insights on conversions from search, search terms, and be able to compare performance across products, categories and more.
Cost comparison
Instead of special integration efforts and $500+ monthly fees for using sophisticated third-party search systems – you get it out-of-the-box, completely tied in to the entire e-commerce catalog, checkout, customer portal, inventory/manufacturing management, and accounting system. Steersman Business Suite manages all your business processes in addition to the e-commerce front end, and gets you the same sophistication in site search and faceted filtering that alone normally costs $10,000+ over the first year in other systems.
Alternative solutions
If you have an existing website and catalog, and don't believe that consolidating systems may be beneficial for you, you can integrate with third-party e-commerce website search services from specialized companies that aren't affiliated with Steersman: SLI, Searchspring, Hawk Search, Algolia, Bloomreach, Innovent, or others. Cost to utilize such third-party website search services normally ranges between $500 and $2,000+ per month, plus the integration setup and maintenance cost.
Information to consider when deciding on e-commerce systems
How to get Steersman advanced e-commerce site search
Steersman Search comes as a component of Steersman Business Suite, an all-in-one business automation system.
Work with Steersman directly or through your web agency to setup Steersman Business Suite and website SaaS. Front end design, layouts, and coding can be done by Steersman or capable design and implementation partner firms.
Related posts