Improved Shipping Times and Increased Sales with Reduced Staff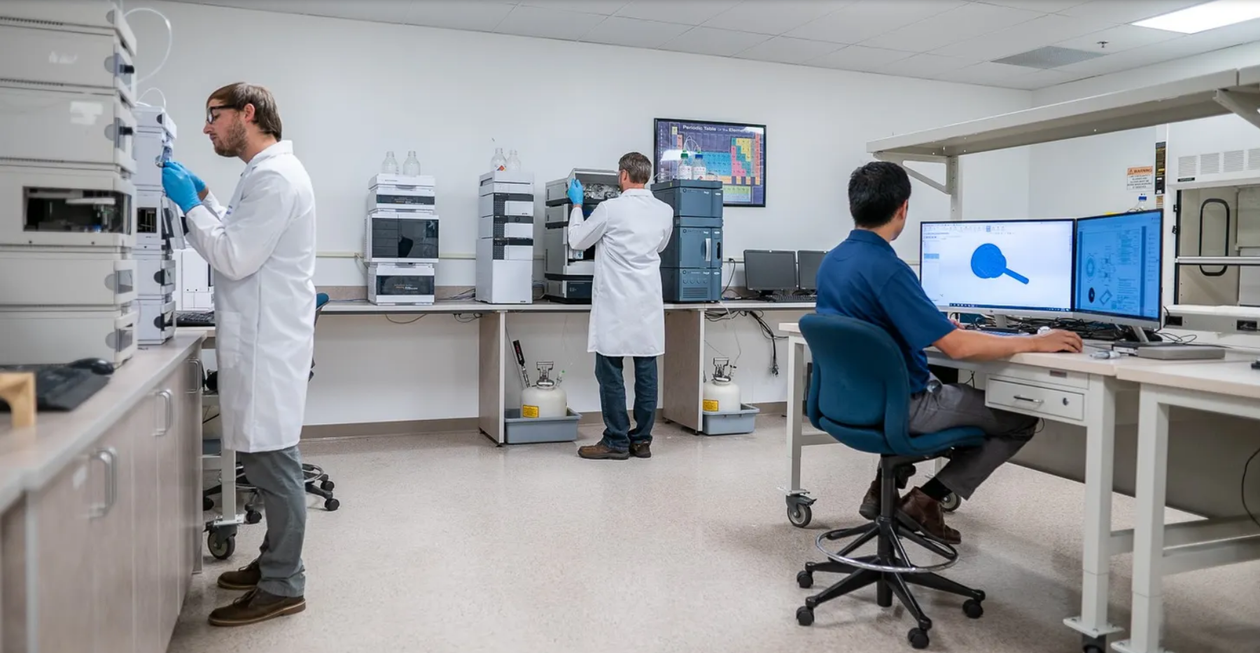 The Problem
Sciencix is a manufacturer and distributor of scientific equipment parts based in Minnesota. They pride themselves not just on product quality and customer service, but also their quick turnaround. The company ships their products to over 100 countries around the world and they guarantee same-day shipping, however they noticed that they were consistently struggling to fulfill last minute orders that would arrive after 4:30pm. Their existing software needed to generate several reports to get the orders ready for pickup and while the platform and tools they were using provided adequate functionality when they first launched, the scalability and customer support of the various moving parts could not keep up with the company's expanding needs. They were also looking to make their e-commerce solution easier to manage, to improve their site navigation and ultimately increase sales.
The Solution
To address the issues they saw before them, Sciencix decided to merge its various in-house enterprise resource systems onto one platform so they could seamlessly manage inventory, sales, billing, shipping, analytics and more. They migrated their various tools, along with the Magento e-commerce solution they were using, over to Odoo's off-the-shelf ERP suite, but found it to be insufficient for their needs. Even after developing some customizations in house, they realized that they needed more than just a few tweaks to solve the unique challenges their business presented.
After researching a variety of potential vendors, the client chose Steersman because they addressed many of their key requirements better than other competing solutions without the need to go through another major transition. With Steersman's suite of Odoo based products and customizations, the client was able to integrate all sectors of their operations over to one platform, all while providing a better user experience for both customers and employees. The Steersman E-Commerce solution alone was a huge improvement over what they had up to that point. US-based customer support, which included highly knowledgeable staff in both technology and business strategy, provided the client with the final critical piece of the puzzle.
During the implementation phase, Steersman was able to migrate the client's out of the box Odoo system over to their own highly customized and improved version. They made sure to incorporate all the various in-house customizations the client had developed themselves, as well as develop a few new features that would be needed to make their business run smoother.
The Results
Steersman's improvements and their ability to incorporate the client's proprietary functionality into the new and fully integrated e-commerce solution provided a more intuitive user interface, helped improve shipping times, reduce costs, increase sales and profits. Due to attrition at the onset of the Covid-19 pandemic, the client's staff was reduced by 25% and a large number of the remaining team worked from home, but all the system improvements allowed them to manage the rise in sales without any issues and ensured that they were able to maintain their exceptional standard of customer service.
One of the biggest contributors to the improved efficiency of the back-end process that their team saw right away, was from the Steersman's proprietary shipping module. It allowed the team to quickly fulfill late-day orders and streamline their same-day shipping operation by eliminating all redundant steps from the process.
An even more impressive change was seen in their increased sales numbers after migrating to the intuitive and lightning fast e-commerce solution that came with the Steersman suite. The very first month after the go-live showed record high sales, and that marked improvement has persisted through the months ever since.
Sharing Commercial and Proprietary Technology is Key
One of the many benefits of working with Steersman is their ability to share technology created for its other customers, making improvements to the ERP systems much quicker and at a much lower cost for the client.
"Steersman has been very good about sharing functionality they've developed with other clients and allowing all of their customers to utilize that," said Jeremy Sacker, head of special projects for Sciencix. "That helped to save cost for us, as well as for their other customers."
For example, the client found that Steersman's small-parcel shipping solution, originally developed for another Steersman client and integrated into their website, was much more robust and easier to use than the out of the box solution that Odoo provided. "We try to ship every order the same day it's placed, and using Odoo's solution we would have issues being able to accomplish that when an order came at 4:30 or 4:45 because our carriers pick up at 5 o'clock," said Sacker. "We would often have to stay late to get it done. Now our business is continuing to grow, yet we have fewer people handling the business increase."
Steersman's solution allowed the client to speed up their delivery system and process packages faster, using one system versus several, all while maintaining a central point for information that was shared across all tools, ensuring that everyone was always on the same page. As part of this improvement, Steersman also helped them revamp their collection and tracking of sales taxes. "That has proved to be very cost effective and really meets our needs," said Sacker.
Customization is invaluable
"We have well over 50,000 lines of code in additions we've built for our ERP system," said Andrey Kolesnikov, business development manager for Steersman. "Steersman provides our clients with a comprehensive solution that's much more robust than Odoo out of the box for our specific niche of clients, and we are always excited to implement new features and improvements that alleviate the unique issues our clients bring us. If you go to a really sophisticated website, like Amazon, they spent millions of dollars on this technology, and in a few ways our technology also works on that level. It would take years for a small company to create something similar on their own. It's very, very complicated, but we just make it all work - letting our clients have a superb e-commerce channel of their own."
The customized catalog management functionality that Steersman created for their suite simplifies and streamlines the process for all their clients. The resulting ease of navigation and quicker searches ultimately lead to higher sales. As part of this effort, Steersman seamlessly incorporated Elasticsearch technology to enable the client's customers to find catalog items and conduct product searches with incredible speed and impressive accuracy.
Importance of speed
"Steersman's e-commerce site is lightning fast, and the search ability on their e-commerce site will rival anybody's," said Sacker. "If you want to have an enterprise system that manages your website, your finances, your products, everything soup to nuts, you've got to go with Steersman."
"Steersman's systems knowledge, coupled with their business knowledge, enables them to quickly and efficiently solve any issues that we might have, which in turn saves us both time and money," said Sacker. "Their technical abilities help them solve a variety of complex issues, and they are head and shoulders above the consultants I worked with at Odoo and at many other companies."
Faster Project Launch
When Sciencix first implemented Odoo, it took them five months to move over from their old system. On the other hand, when the company decided to migrate to Steersman's hosted platform, it took roughly five weeks. "I'm a moderately technical person, and our solution is really relatively complex," said Sacker, "But it was very easy to work with Steersman."
With Steersman's intuitive ERP system, product staff can manage the catalog, leaving data people free to manage their tasks. This helped the client to speed up their migration process, eliminated errors that often come from people not familiar with products managing the descriptions, and will allow new employees to come up to speed quickly in the future.
"If you're using Odoo and you have a lot of SKUs, you get much cleaner data with Steersman's solutions. Of all the systems I've used in my 25-year career, this is the most intuitive and easiest to train," said Sacker. "The easy to use platform enables our product people to manage product details, work on filters and create categories themselves instead of involving data people, which is great because the data people really don't know the product as intimately. Since the product team is more familiar with the variety of changing product lines, it's easier for them to do the work," added Kolesnikov.
Security and Support
Ensuring a high level of security was a key concern for the client, and they wanted to make sure that if they had any issues that they would be able to reach out and receive prompt support to get them back in the game.
Steersman hosts its ERP systems on its own secure servers that are designed with redundancy and security in mind. This allows Steersman to protect all of the client's systems not only from outages and crashes, but from hackers as well. In addition, Steersman's expert support team helps the client make ongoing improvements and changes based on their business strategy, rather than just providing customer support that only gets involved for bug fixes.
"We were not able to get the level of support that we needed from Odoo," said Sacker. "They did not understand our business problems, and it seemed that we were never dealing with the same support people, so we had to explain our in-house solutions time and again. We also really wanted domestic support to improve the turnaround time for our tickets. We did a lot of research on companies and when we found Steersman, we were pleasantly surprised at their business acumen, the breadth of their solution, their robust e-commerce platform and their exceptional level of support. We are very glad we made the switch," said Sacker.
"Our suite of products is ideal for any retailer with a large catalog and intricate needs requiring customized solutions. We do everything in our power to ensure that our tools are intuitive and easy to learn for a smooth transition," said Art Shipulin, founder and CTO at Steersman.
Related posts